This site is maintained as a volunteer effort, as are all GenWeb sites. The information included here is not meant to be the ultimate source for genealogical or historical information about Pickens County, but it is intended as a tool for your research efforts and an 'electronic meeting place' for those who may be researching the same families. The Site Administrators welcome suggestions for additional resources to be included in the site, especially if they come pre-formatted as HTML documents! Complaints and griping will be for the most part cheerfully ignored! —– Please do not ask for research to be done for you, as that is not one of the functions of the Site Administrators.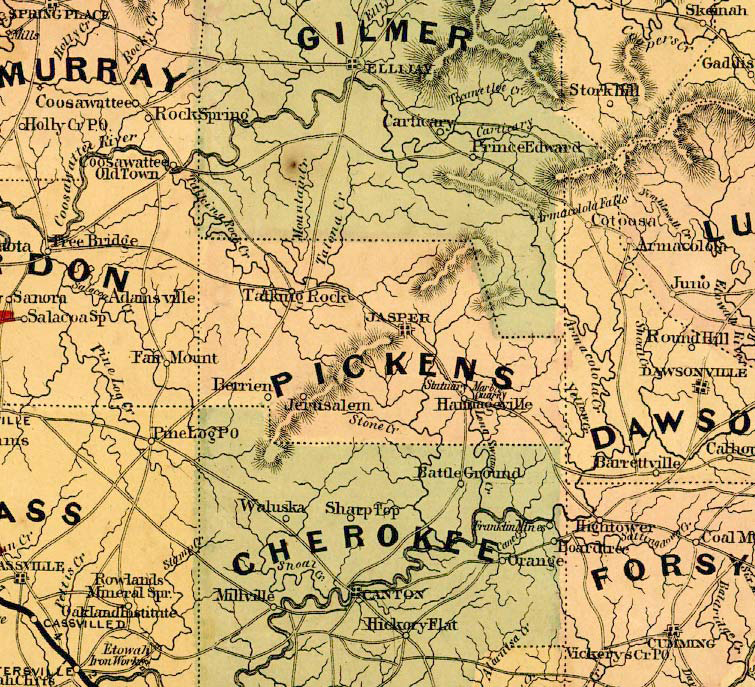 Besides the local resources that we have compiled and listed here for you, there is a wealth of information available in the Special Projects realm of the USGenWeb Project. Visit the Special Projects page to get links to the USGenWeb Archives and much more.
---
Book Indexes
[missing]-Index to Pickens Past (by Robert Scott Davis, Jr.) (PDF)
[missing]-Every name index to Cemeteries of Pickens County (by Teague & Reece) (PDF)
Census Resources (Pickens County only)
Index to the 1860 Mortality Schedule (PDF)
Index to the 1860 Slave Schedule (PDF)
Index to the 1870 Mortality Schedule (PDF)
Index to the 1880 Mortality Schedule (PDF)
[missing]-Every name index for the Pickens County Population Schedule for 1880 (PDF)
Church Records & Church Cemeteries
Partial transcription records of the Talking Rock Baptist Church.
Pickens County History
View some Historical and Genealogical Resources of Pickens County, GA. This eleven page document lists a variety of original and published (microfilm or book) sources which are located at the Pickens County Library, Georgia Archives, Family History Library, and/or National Archives-Southeast Region. (Note: This is a large document and may load slowly.)
View a Historical Sketch of Pickens County, a WPA project done during the Great Depression of the 1930s and now in the Georgia Department of Archives and History.
Military | Civil War
Index to the 1862 Salt List for Pickens County, 16 December 1862 (PDF)
Index to the 1863 Salt List for Pickens County, 24 July 1863 (PDF)
1864 Militia Enrollment (Joe Brown Census) for Pickens County
1883 List of Federal Pensioners for Pickens County as found in the records of the United States Senate.
Military | World War I
Index to WWI Draft Registrations from Pickens County (PDF)
Occupations
Medical Practitioners: 1881-1897 (PDF)
Postmasters: 1853-1958 (PDF)
Sheriffs: 1854-1932 (PDF)
Tax Lists
Partial index to 1849 Cherokee County Tax List as it relates to Pickens County:
1849 Tax List, Georgia Militia Districts #899 & #1026
Vital Records
1919 Death Records
1920 Death Records
1921 Death Records
1922 Death Records
Index to obituaries: Pickens County Progress, 1 January 1997 to 30 December 2004
Search the Lost Marriage Records that are not in the Pickens County Court House.
---
Local Organizations with Genealogical Resources
If you want to keep up with current news in the county (including articles on topics of historic interest), you will want to visit the PICKENS PROGRESS newspaper site.
Pickens County Library
100 Library Lane in Jasper, GA 30143
The Sequoyah Regional Library has a Special Collections room for local history and genealogy research. They are open Monday through Thursday from 9am to 9pm, Friday and Saturday from 9am to 5pm, and Sunday from 2pm to 6pm. As a part of the Sequoyah Regional Library System, they are online and may be accessible for email questions in the near future. At this time, the library has agreed to do some look-ups (questions by telephone or fax) as their schedule permits.
Pickens Historical Society
14 North Main St, Jasper GA 30143
For information about membership or projects, go to their website.
Northwest Georgia Historical & Genealogical Society
PO Box 5063 in Rome, GA 30162-5063
Includes Pickens County. Check their website for more information.
Pickens County Chamber of Commerce
500 Stegall Drive in Jasper, GA 30143
Visit their website.
Pickens County Courthouse
52 N Main Street in Jasper, GA 30143-1554